Woven strip cards
Hopefully the lack of postings recently will be made up for by the number of photos in this one!
At the end of the last posting I popped in an all white card in a style I have called woven strips. As so often happens the inspiration came from a card in a magazine, but as usual there were elements I didn't like, not that I necessarily like the cards I make!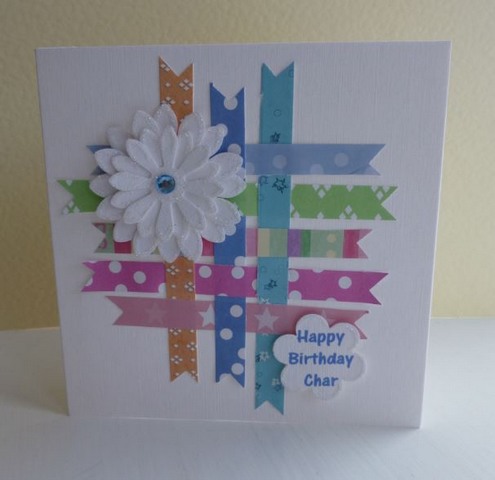 The first one I made was for Char's birthday and the middle horizontal strip was the starting choice for all the other papers. I started by applying double sided tape along the whole strip but of course that didn't work when it came to weaving the vertical strips, so now I just apply a small piece of tape to each end of the strip, I do the 5 horizontal strips first and then the three vertical on a 12.5cm white linen card.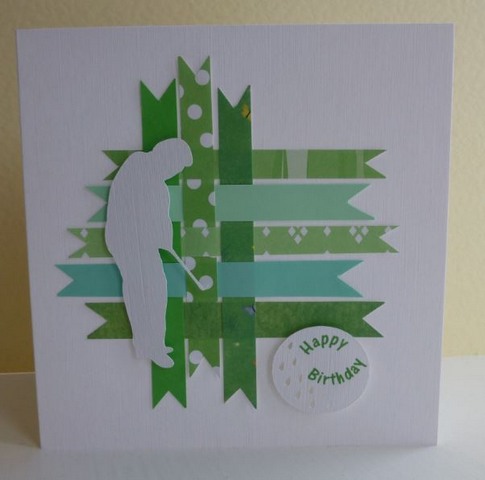 Then it was a golfer's birthday so I thought shades of green and the silhouette of the golfer
Mum then saw the ideas and thought blues and sailing boats for Noah's birthday.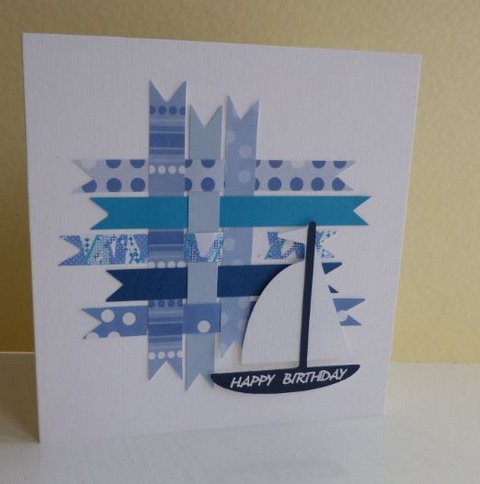 and I thought pinks and butterflies for summer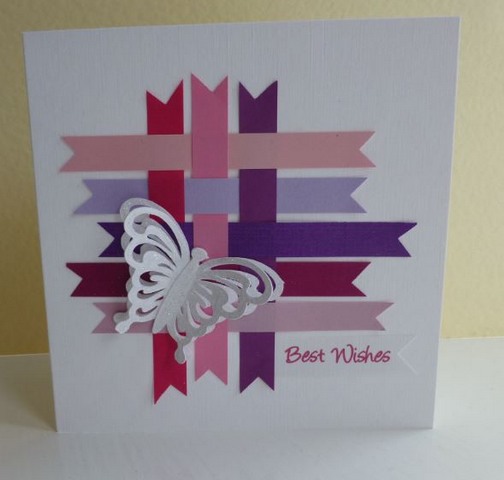 Would this design work for a child's card? Primary colours and a white kite with a multi-coloured greeting is quite nice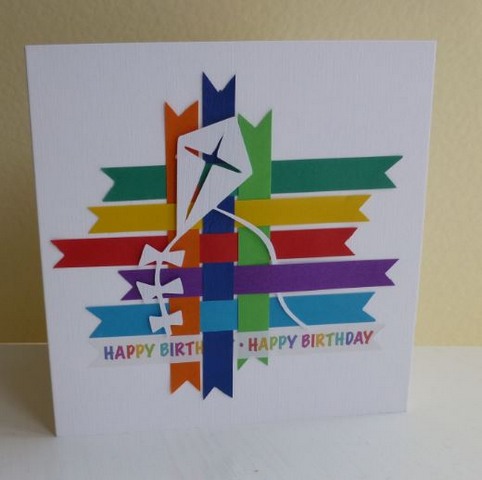 Up to this point I had only used square cards with this idea so I had a go with an a6 portrait,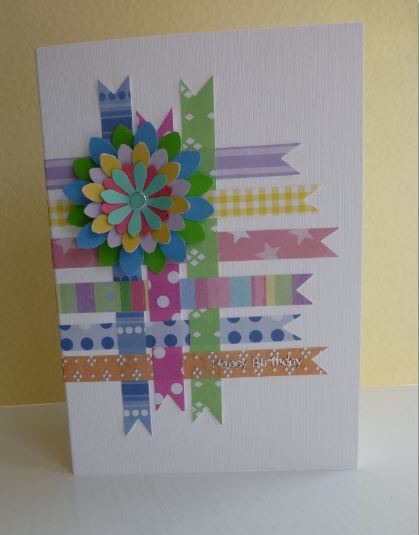 I needed to use 6 horizontal strips and I wrapped the strips around the fold rather than shape the ends. Up to this point the 'toppers' have been white, so I tried making the flower using plain coloured papers, the mistake I made was using a very patterned bottom strip for the greeting which does not show up.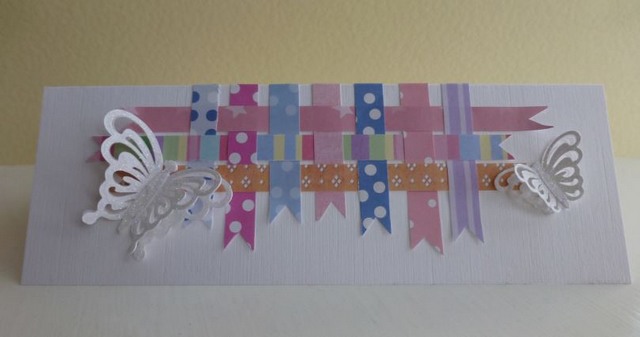 Long thin shaped card - 7 vertical strips and two glittered butterflies - I should have printed the greeting on first because I don't really like mixing glitter with silver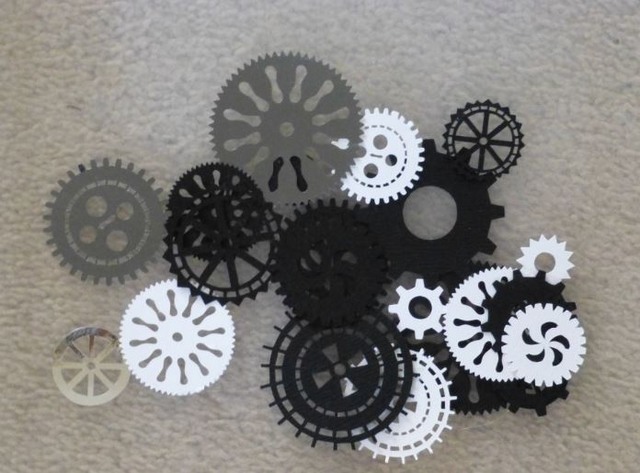 For the male (apart from the golf card) I thought about metallic strips and I was going to use steam punk/industrial cogs for toppers but the whole thing was rather 'busy' so this chipboard circle which I have had by me for ages works quite well, but I will pursue the idea later with black, white and grey matt strips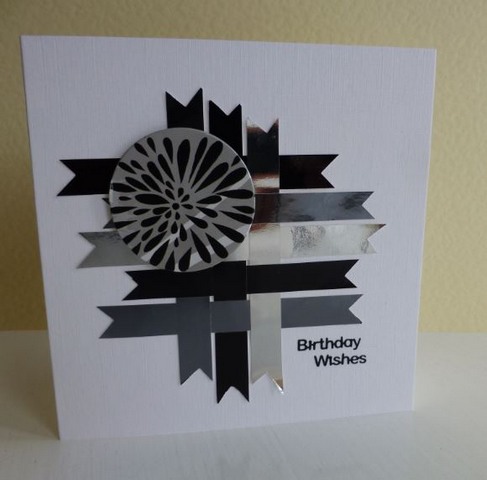 Up until now these have all been 'new' off cuts of paper or card to make the strips so an old road map made an interesting challenge.
The strips have to be cut the right way in order for the writing to be 'read', I cut the ends just on the diagonal this time thinking it would be simpler, but what about a topper, I suppose a simple car might have worked but it would have covered a lot of the weaving, it was Char who thought about a road sign 'greeting', obviously a number is needed so something like 'xx Today' would work well
How about a book page, a newspaper, a magazine cut into strips, no not a £5 note!!
And finally, real up-cycling and several questions for you.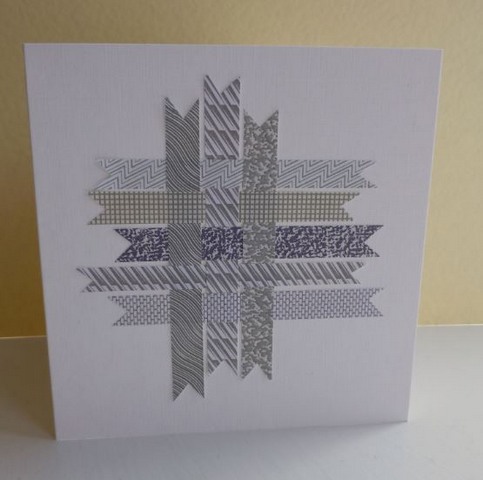 What are the papers used in this card cut from, I can almost guarantee you will have seen at least one of these recently and what topper should I put on it?
18/06/2013 00:18