Roasted tomato with crushed avocado on toast
I thought it was about time to make another posting in the Food section - and it just happens to be another variation on the theme of roasted tomatoes - perhaps I am thinking of sunshine!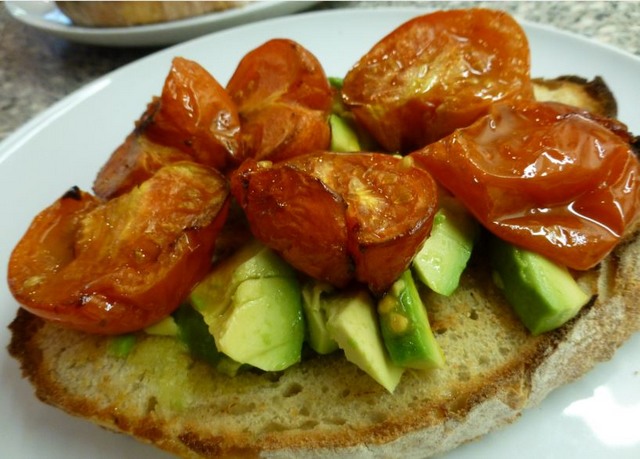 Just for a change we have the finished plate of food before the recipe - to whet your appetite
Roasted tomatoes and crushed avocado on toast
6 large plum tomatoes
1½ tbsp. olive oil
½ tbsp. balsamic vinegar
About ½ tsp harissa (optional)
1 tsp caster sugar
1 ripe avocado
Lemon or lime juice
2 slices of good bread that toasts well such as sourdough
Method
1. Preheat the oven to 1900 C/3750 F/gas mark 5
2. Halve the tomatoes and place in a single layer cut side up in a small roasting tin or oven proof dish
3. Mix the oil, balsamic and harissa and pour over the tomatoes
4. Sprinkle with sugar and season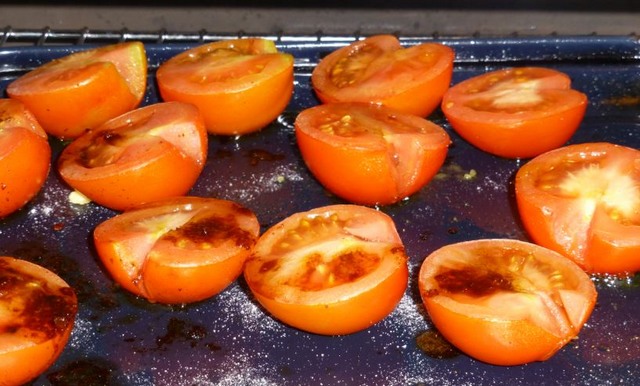 5. Roast for 40 to 45 mins or until the tomatoes have caramelized in patches and are slightly shrunken
6. Halve and stone the avocado, scoop out the flesh and squeeze over some citrus juice
7. Toast the bread, drizzle with avocado oil, then spread with the avocado flesh. Season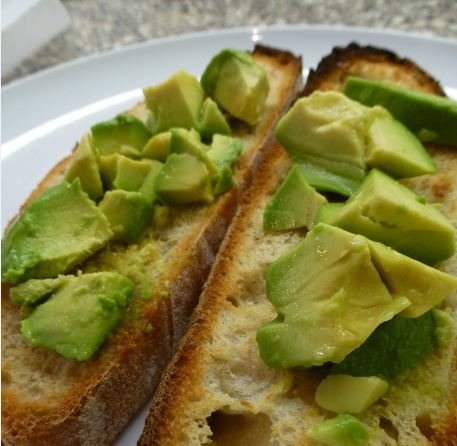 8. Put the tomatoes on the top and drizzle with more avocado oil
This recipe was found by Pauline in the Stella magazine and makes a delicious lunch for 2 people or a main meal for one. We have both tried it using tomatoes other than plum and it works well. I know that avocado oil is expensive but it is worth it. Although the harissa paste is optional it gives it a delicious flavour and don't be put off thinking that it is hot, there is such a small quantity it just gives the whole meal a lovely 'kick'
If you try this recipe please let me know how you get on and what you think, enjoy!

26/04/2013 11:56