March bits 2013
It is just as well that the weather was so cold and grey during March because I have had a lot of cards and bits to make, so I thought that I would share some of them with you.
After the wedding anniversary cards I made earlier in the year and I wrote about in the previous posting I still had a white and silver and white on white thing going on in my head, so when it came to Mothers day cards for myself and a bespoke card for someone else you can guess what resulted - but I can't believe that I didn't take a proper photo of Mum's card, however here is a snip of the file and thanks goes to Leza for the 'M'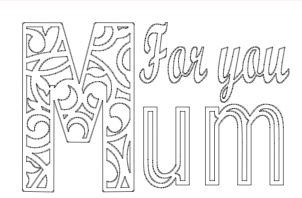 and a portion of the scan.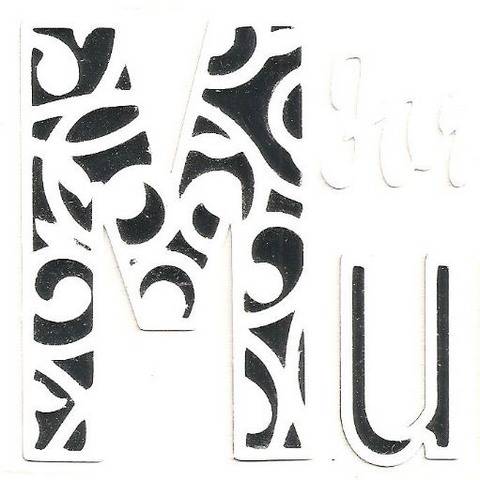 It is mirri silver behind the letters of the word 'Mum' and the font of the 'For you' is Script MT Bold which I have welded together and then cut in the same white linen card that I used for the card, this led on to other ideas which you will see later
I mentioned the scan of the card - since 2007 I have scanned every card I have made and this has proved so useful when I try to recall what I made for someone last year and in previous years in an effort not to repeat myself. It has also been useful when I have made age cards for children and I have doubts about their age this year! I also scan the cards which go into the 'stock' box and these scans are moved into new files when the box is returned to me, this has resulted in me identifying the style that each customer likes, a rather time consuming but useful process and can you imagine how many .jpg files I have!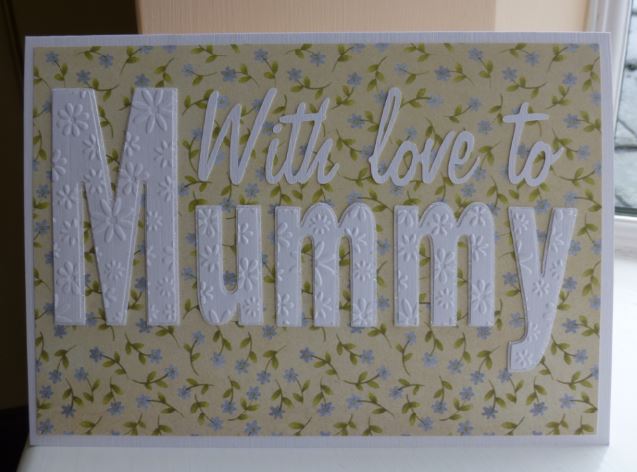 The brief for the bespoke Mothers Day card was 'pretty' with a spring flower background, I liked the result so much that it formed the basis of one of the Easter card I made.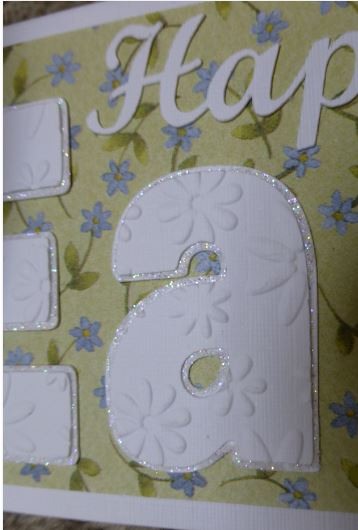 This photo of the detail shows the two layers which make up each letter, the larger by just 1mm, is glamour dusted around the edges and the smaller embossed using a folder with little flowers on it to mimic the forget-me-nots in the paper, the embossing folder was a free one given with the Docraft magazine several years ago which has become a favourite of mine

You will see that the other style Easter card was completely different and designed for a different 'audience'. The inspiration for the bird came from a Sizzix folder, but of course mine is a studio file that I designed and put onto an egg shaped card which I cut before embossing. I know that there are several people who read these blogs who have Cameos, Craft Robos or Portraits which use studio files - I am more that happy to share any files that I have made with you, just send me an e-mail or a web mail. If you don't have one of these machines but would like a .jpg file that can also be arranged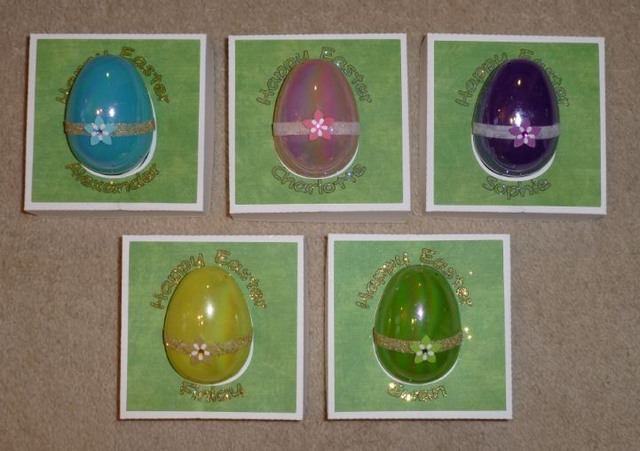 And the final Easter crafting item are the boxes I made for the children's mini eggs and money; this year using the pearlised plastic eggs - 15 for 99p which initially look cheap and tacky but after decoration looked so pretty in their tailor made boxes
And finally...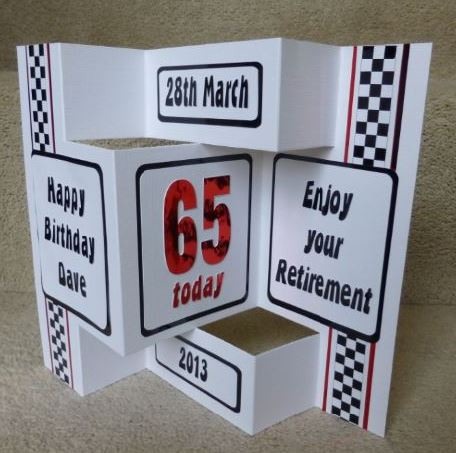 at the end of the month it was Les's brother's 65th birthday and retirement. It would have been easy to make two cards but I set myself the task of making one more substantial one so I set about making the first tri-shutter card for a man! I started off with the idea of a chequered flag - the finish line and Dave's interest in F1, but printed black was just not black enough! Each bit of black you can see is a separate piece of black mirri and each letter is not only cut in black but stuck on to a letter cut from white card to give a slightly raised look. To achieve an even check for the border I printed a grid, then cut the black squares and applied them, it all looks so simple but to give that crisp, neat finish it was quite a task
All these ideas have led to me developing a technique which I have called faux embossing and de-bossing but I will share that with you in another posting. I will always marvel how one idea leads and develops into another idea and reminds me of something I was taught at College all those years ago - never throw away a mistake or an idea which didn't work - put it out of sight and revisit it at a later date, perhaps that explains why I have so much clutter!!
03/04/2013 21:16