Wedding anniversaries
Well, I have returned and I know that it was the beginning of the year when I made my last posting and it is now nearly the end of February .... oops!!
One of the tasks I have been occupying my time with was very pleasureable. I was asked to make some cards for a couple's 70th wedding anniversary. I thought I would show you not only the cards I made for them but the cross stitched sampler I made when Les's Mum and Dad celebrated their golden wedding anniversary in 1996.
Just after Christmas I bumped into a lady who has asked me to make lots of cards over the years and I know exactly the style she likes. She simply said that she had known the couple for years and could I make my 'usual', she gave me the details and the result was -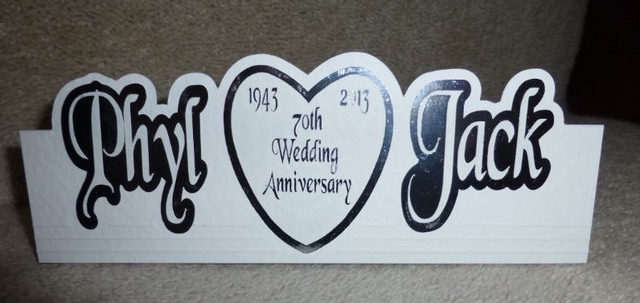 70th anniversaries do not have a gem stone associated with them although it is considered that diamonds are forever and the metal is platinum, so I used silver.
I then had an e-mail from the couple's daughter who had heard from her friend (the lady who I had made the card for) that I made special cards, she was having huge problems trying to get an appropriate card never mind a personalised one! She is their only daughter and wanted something simple and told me what she and her parents didn't like, for example her mother hates purple!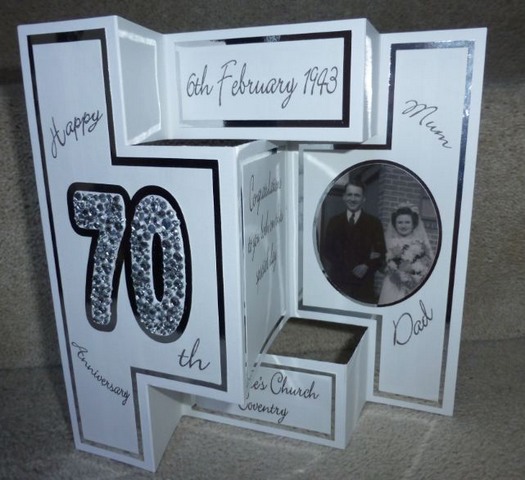 I don't think 'large' very well so I suggested the tri-shutter style and a photo all mounted on silver with a 'diamond' encrusted 70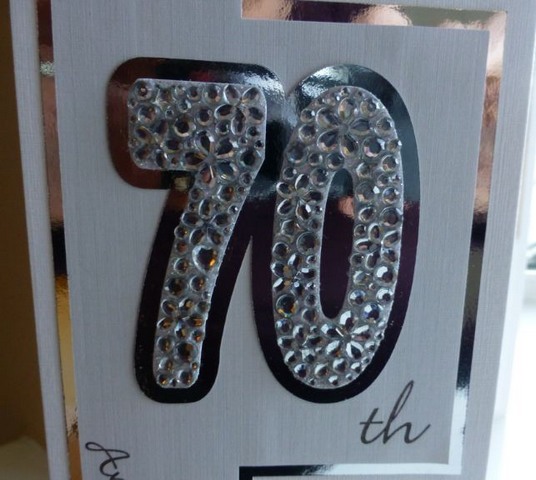 I did so enjoy making this card and it felt a bit like a 'scrapbook' page.
During one of my conversations with the daughter she told me that her father was almost blind now and she was charged with buying his card for him to give to her mother and would I be interested in making one for him using his own words!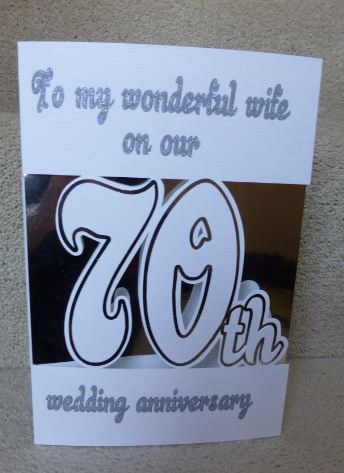 I tried to make his card as touchy-feelly as I could. So that he would be able to feel the words I glittered them all (including the ones inside) and layered the 70 on the front, I am afraid this photo doesn't do this card justice, the silver mirri is reflective and to avoid seeing me taking the photo I had to angle it so it doesn't look 'square'
Making these cards brought back memories of Les's Mum and Dad's golden wedding anniversary way back in 1996. They didn't want any presents but I felt the occasion needed to be marked and I made this sampler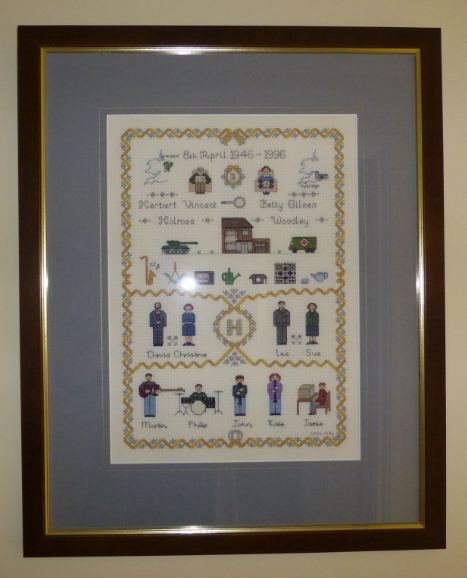 Each component of the design was plotted on graph paper and literally cut and pasted together and then stitched in cross stitch. On the back is an explanation why I included each bit and perhaps that could be a future posting if anyone is interested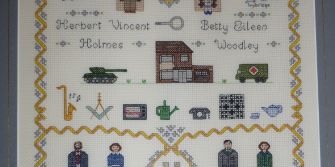 How things change in seventeen years - look at the television and telephone and in the bigger picture the computer that Jamie is sitting at and these really are a representation of the ones we owned!
27/02/2013 17:59