Chocolate fridge cakes
I'm afraid there are no pretty photos to go with these recipes, neither of them stay around long enough to take pictures!
The first (which is definitely my favourite) was originally twice the size, hence the strange measurements, but it is very rich and more-ish, so the only way I can limit myself is to make a smaller quantity and share with everybody!
Sweet and salty crunch bars which is a variation of a Nigella Lawson recipe
150g milk chocolate - CDM works well, broken into small pieces
62g unsalted butter
2 x dsp (approx 22ml total) golden syrup
125g salted peanuts
2 x 20g Crunchie bars
Line an 18cm square Or equivalent) tin with foil
Break up the chocolate into pieces and put into a heavy-based saucepan. Add the butter and the syrup, put over a low heat and melt gently together
Tip the peanuts into a bowl and crush the Crunchie bars into small pieces with your hands and add to the bowl
Take the melted chocolate mixture off the heat and stir in the peanuts and Crunchies, then tip into the prepared tin. Smooth the top pressing down gently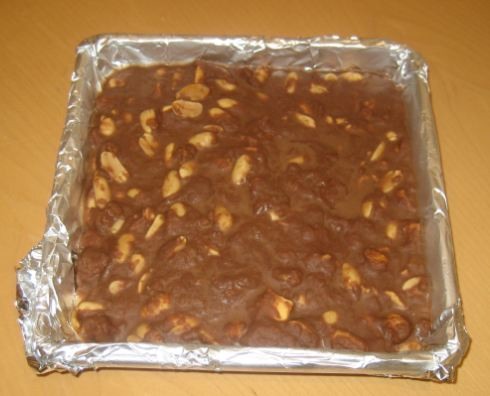 Put into the fridge for about 4 hours and once set cut into slices. Store (if that is possible) in an airtight container in the fridge
Lorraine Pascale's Party time chocolate fridge cake
125g butter
400g milk chocolate (once again CDM works well)
2 dollops of golden syrup
250g lightly crushed digestive biscuits
135g pkt of Maltesers
Line the tin with baking parchment or foil.
Put the butter in a large pan and melt over a low heat. Add the chocolate and golden syrup and allow to melt for a couple of minutes, stirring the mixture,
Take the pan off the heat and stir in the digestive biscuits and Maltesers until evenly mixed.
Tip the mixture into the prepared pan and flatten the top down as smoothly as possible.
Cover and place in the fridge for a couple of hours or until it hardens. Cut into about 16 evenly sized squares.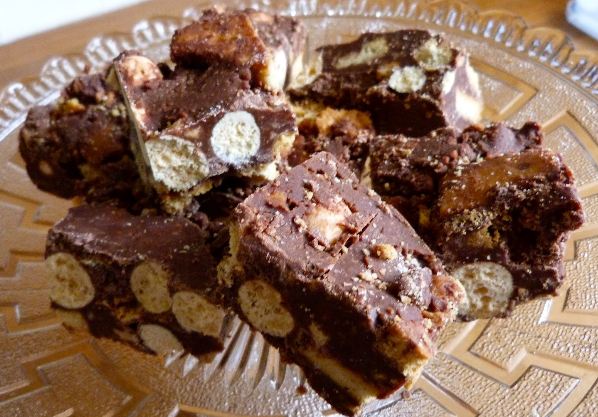 Kate makes this recipe using less biscuits but adds mini marshmallows, which is delicious and of cause Maltesers have 'less fattening centres' so fewer calories!!!!!!
Thank you to someone who made this recipe and posted the photo on a web site, sadly I have no idea where I got it from, but thank you - it looks just like mine!
26/08/2012 12:30