June
Looking out the window at present it is very hard to believe that just two weeks ago we were basking in glorious sunshine trying to keep cool, now we are trying to resist the temptation to put the heating on!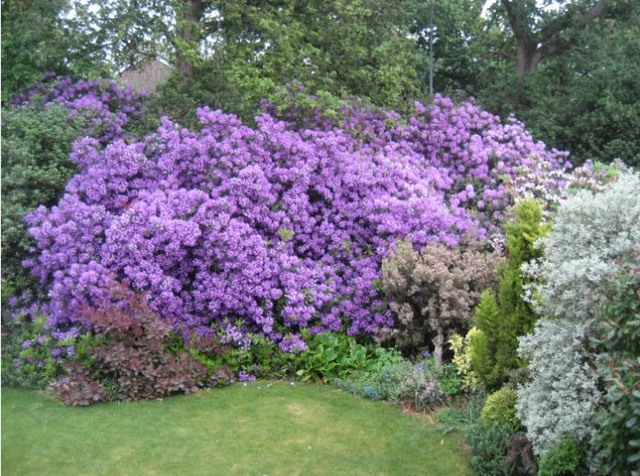 Mum came to visit us just in time to see the rhododendrons at their best. The weather was fantastic and I think this has been the best year since we have lived here for flowers. The photo above was taken from her bedroom window, but sadly most of the flowers have been blown off in the gales of Friday and the whole garden looks very dishevelled now.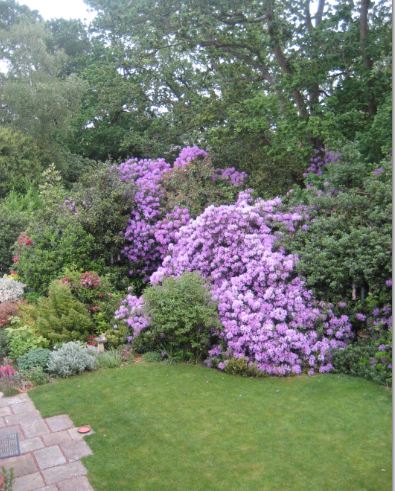 This photo was taken on June 1st from our bedroom window when the pale lilac rhododendron (in the fore front) was at its best, the one behind it is just a shade darker and adds to the drama. In actual fact there is a path separating these two plants which at ground level looks like this -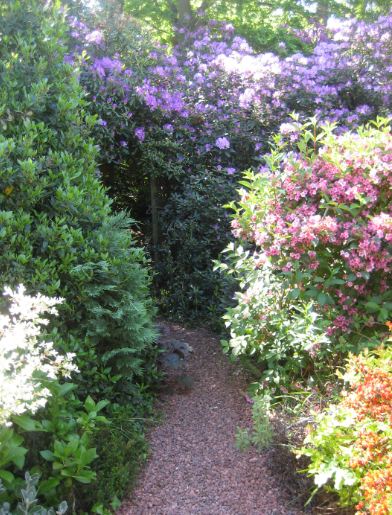 I know I have said that I like nooks and crannies, I think that this just proves it! Some time I will share where this path leads to and contrary to how it might look, my garden really isn't that big, it is just divided up into 'rooms' which are different in planting and style.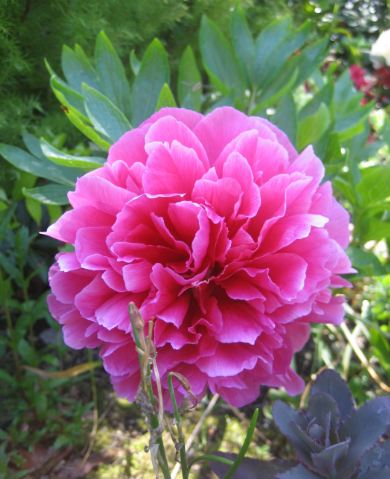 This peony is definitely no more, but it was really huge and and the most brilliant pink - it looked almost false, but was sadly very short lived. The grass-like stalk in front the peony flower is a sisyrinchium, these are self seeding and the flowers are very pretty and understated, they last for ages and then the seed head is attractive.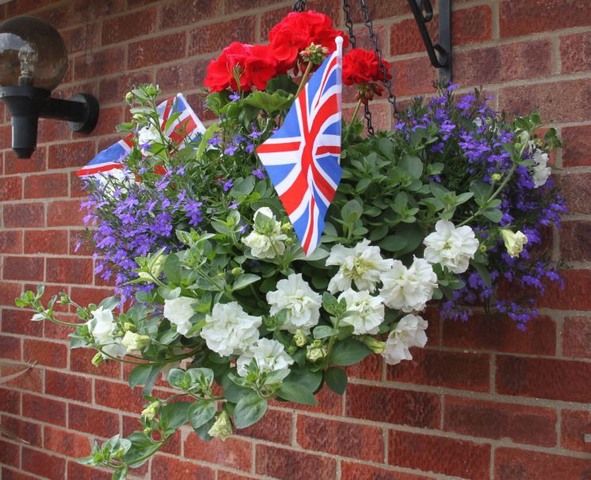 This patriotic basket is Pauline's (you can tell, it is far too neat to be mine!). This is one of two which she worked really hard to get into flower before the Jubilee weekend, isn't it lovely!
The BBC weather has just been on and the forecaster finished by saying 'Well sadly summer isn't coming this week', I would like to ask him, was the good spell of weather two weeks ago and the week in April, summer? I do hope not, but there isn't too much we can do about it - so just keep smiling!
10/06/2012 22:56