May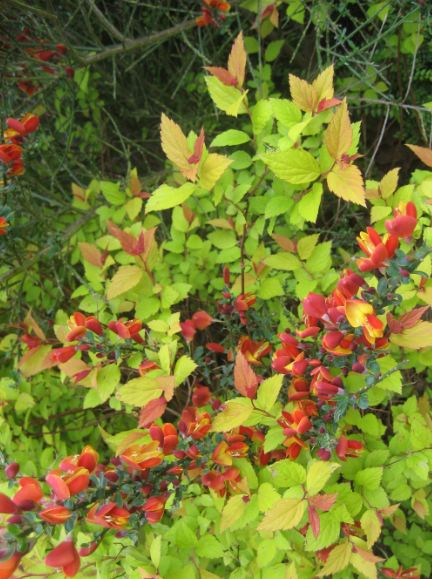 I love happy accidents in nature and each year I am always surprised to see the new leaves of the spirea next to the flowers of the broom, the shades of yellow and orange are so vibrant. When I planted these plants next to each other I did it without thinking that for a couple weeks each year these would look so great together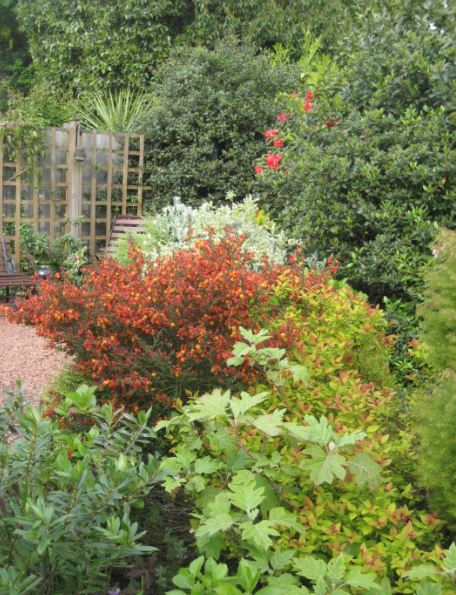 and in this photo it also shows an oak leaf hydranga. This has taken an age to get to this size and we even had a couple of small flowers last year - to think I was warned that it would take years to get established when I bought it.
I confess I do not have a tidy garden and I never will have. I like nooks and crannies in the garden and I don't like to see the whole garden in one shot, so using the original boundary 'hedge' of the old house we have cleared parts to make hidden areas.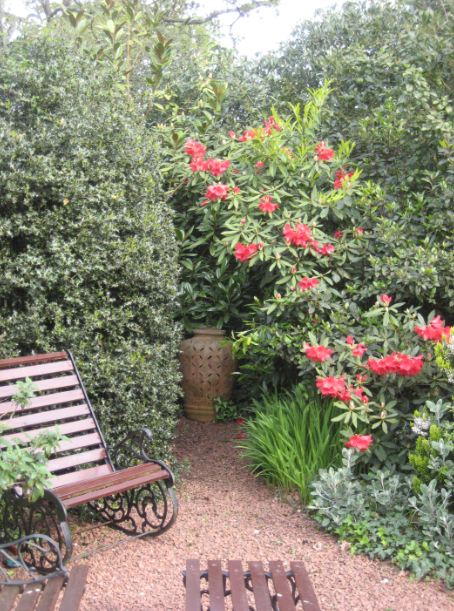 The red rhododendron in this photo was very sick when we moved here (I think it had been run over by a digger) , but this year it has more flowers than we have seen before and it will need pruning when the flowers have finished. The holly (behind the rocking chair) is also flourishing but we have been told by the neighbours that this was a beautiful holly tree until someone cut the tree down to steal the holly the Christmas before we saw the house, it was literally a stump only a few inches high when we first saw it!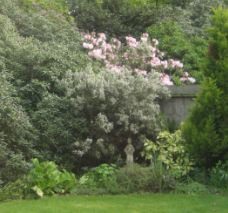 Not the most inspiring photo but the white flowering plant in front the fence is a tree heather and once again this is a legacy from the old house, it is now flourishing but it hasn't always been that way, I think the builders must have damaged it quite badly when they put in the fence.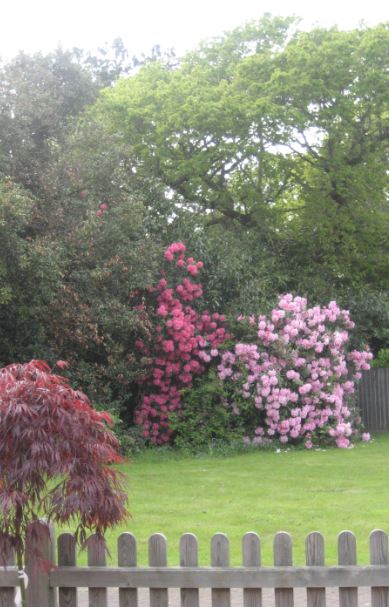 These two rhododendrons are not ours but are on the open space at the front of our house. This year they have been really beautiful and the colours have been so bright despite all the rain and the wind.
And finally, I'm afraid that blue tit television has been turned off. Mother bird did not seem to have any help from a cock bird and although seven or eight eggs hatched, she left the nest for quite long periods. Friday morning there were still two chicks alive (and one looked quite strong) but then mother bird did not seem to re-appear; it is very sad but I guess this happens all the time - it is just that we don't see it!
19/05/2012 23:15